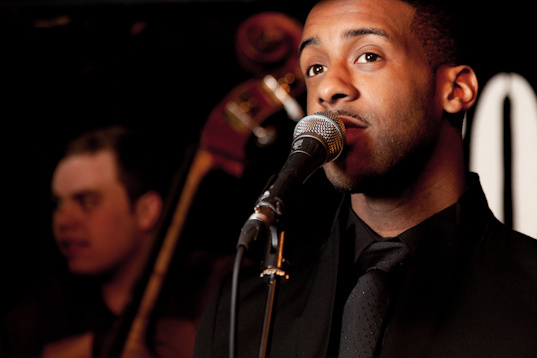 My first encounter with this 20 year-old performer was when I had the opportunity of interviewing him after a recent performance at a live music showcase in London. Not only was I intrigued by his unique singing style and lively stage persona, but I was also taken aback by the energetic personality and showmanship that instantly bubbled to the surface during our interview. Not content with a standard question and answer session, Shakka jumped, sang, shouted, laughed, joked and 'smoozed' his way through the interview. I guess this first interaction was a taste of things to come from Shakka and in hindsight, was a very accurate portrayal of this singer/songwriter/producer.
Born to Dominican parents, Shakka Philip was birthed into a musically eclectic world of Dub Reggae, Hip-Hop, Motown and Garage. With Notting Hill setting the scene for his childhood, Shakka's appetite for all things melodic stemmed from the role his Father played as a guitarist and producer of a Reggae band by the name of 'The Foreigners Crew', a band which Shakka went on to play the keys and sing for. Secondary school, Saturday music school and the local youth centre expanded Shakka's music production and recording experience and further strengthened his creative and musical foundations... Which leads us to why we are here - Shakka Phillip's latest mixtape release by way of The Shakka Crown Affair.
In musical terms, the word "cover" may conjure up thoughts of an artist simply replicating an original song by another artist and this is not entirely a bad thing when done well enough because they do say that imitation is the highest form of flattery… And then there is Shakka - not content with the possibility of his most recent musical offering being labelled as merely a "covers" mixtape, the singer, songwriter and producer presents the world with the conceptual The Shakka Crown Affair. Far from simply snatching instrumentals and replicating the original composition, this young upstart stomps all over the tracks leaving a Shakka-shaped footprint... miraculously without damaging the original foundations.
The concept for the mixtape is "borrowed" from the 1968 film The Thomas Crown Affair where screen legend Steve McQueen plays a millionaire businessman who fearlessly ventures into the world of crime to cure his boredom and satiate his appetite for adventure (the 1999 remake starring Pierce Brosnan follows the same vein and sees Mr. Crown painstakingly plotting to heist a Monet painting). Shakka's mixtape - The Shakka Crown Affair - centres around the hero stealing numerous priceless music artefacts to use for his own personal amusement while we (the listeners) are updated about his progress via the humorous skits which seamlessly weave through the mixtape.
"Borrowing" the instrumental foundations of songs from prolific and/or popular artists such as Coldplay, Jay Z, Young Money, Calvin Harris and J. Dilla, Shakka uses an amalgamation of storytelling, singing, rapping, comical adlibs and musical interludes, wrapped in a layer of dry humour with sprinklings of undeniable charm to deliver this quirky 11-track mixtape.


So without further delay, let's get stuck in!


The introductory skit flows freely into the opening track, which allows us to follow Shakka's
'Chicken Legs'
through his musical journey thus far. The song tackles the realisation of his creative talent, peer pressure and resentment that almost threw him off course, but ultimately contributed to finding his musical identity. Sleepy Brown's '
I Can't Wait
' provides the backdrop for this journey from adolescence right through to current day, highlighting his hunger and impatience to reach the dizzying heights of critical acclaim that many of his peers experience, as he awaits on the sidelines. '
Chicken Legs'
demonstrates Shakka's readiness to claim what he seems to believe is rightfully his:
"I see red, amber then green. Next in line; Shakka, that's me"
"I can't wait! NO! I can't wait, I can't wait!"


On this next song -
'Take Our Time'
- Shakka beautifully touches on the realization that in one way or another, we have all experienced heartache and sometimes we're not capable of assessing the magnitude of that pain until we embark on another relationship. This song addresses the fact that we need to allow our loved ones the opportunity to heal by simply allowing them to talk, while we listen... and that we shouldn't be afraid to communicate this to our significant other if necessary.
'Take Our Time'
suggests that this can only be achieved by moving at a more comfortable pace and although this particular subject matter fails to escape Shakka's trademark humour, it successfully makes its point.
"Do you mind if we take our time? 'Cos I've been here before, and it nearly took my life. Do you mind if we take our time... and take it easy?"
Calvin Harris' 'Neon Rocks' serves as the appropriate foundation for Shakka to create the speaker-rumbling track that is this next song titled 'Spaceship'. We are gently eased in by Shakka's trademark harmonies. The melodic and mellow introdction gives way to the thumping bass line and noticeable tempo change that makes this so much more than a mere "cover". I predict that this infectious track will be a firm favorite with the listener. A definite foot-tapping, head-nodding tune upon which Shakka adds his own unique delivery and quirky lyrics:
"I'm whipped, it's true but I can chill in my spaceship, thinking of you. Facebook picture on my desktop, slowly winking at you..."


Whereas Coldplay's original '
God Put a Smile Upon Your Face
' record has dark and sombre undertones, Shakka flips this sentiment by accelerating and cleverly altering the composition and tempo of
'God Put a Smile on Your Face'
. Add Shakka's upbeat delivery and quirky adlibs and this song is instantly uplifted and firmly placed into the 'feel good' category. Despite the clear alteration of mood, Shakka keeps many of the original lyrics but of course, it wouldn't be true to form if Shakka didn't add his own wacky lyrical content in some form or fashion:
"I want a day off. Tell him that I'm sick.
That my medicine is some tissue and an empty tub of Vicks.
I can't come into work today, I'm getting too much licks..."
If you don't take to this track straight away, it will definitely grow on you.
Although each song has more or less been completely reworked to make it original in its own right,
'Driving'
which you're about to listen to is the sole original track on this mixtape. A piano serves as the only accompaniment to Shakka's mellowed vocals - stripped down to basics - this song comes as a stark contrast to the majority of
The Shakka Crown Affair
. The energetic and vibrant Shakka heard throughout the mixtape subsides to reveal a more mellow side of himself, making this fearless artist more endearing in his vulnerability.
'Driving'
is a story of a young man embarking on an arduous journey, baggage in tow. Disregarding the adverse conditions and unsure of how he will reach his destination, he is assured only by the fact that his determination will get him there eventually. A young woman suddenly appears in a car and offers him a lift to his destination - he eagerly accepts her offer and they embark on a journey together and the young singer is even willing to alter his original path just to prolong the time spent with the young woman while she swiftly disregards the possibility that he could actually be a danger to her life. They decide to take the risk and after an uncertain and sometimes turbulent journey, they eventually grind to a halt and venture into their new destination.
"I don't care where I go, the night's still young //
Long as I'm staying with you I've no need to run //
We can drive and drive and drive and drive
'til my pocket runs out of fuel"
Shakka's eclectic concoction of musical knowledge, experience and musical influences all serve as the diverse marinade in which this mixtape has been birthed in. If The Shakka Crown Affair is an accurate depiction of the artist Shakka wants to be received as, then I rub my hands together in anticipation of what is to come. This multi-layered mixtape provides the listener with a heady mix of unique vocals, humour, bumping basslines and melody.
If you listen carefully, you can hear the theme of travel expertly threaded through this mixtape - Shakka invites us to walk in his 'Chicken Legs' then gives the instruction 'Let's Ride'. He goes on to declare that he can chill in his 'Spaceship' before he disappears into the sunset 'Drivin' and whether this was done intentionally or purely by coincidence remains to be seen but if like me, your eardrums have a low tolerance for the Euro-Pop sound over-saturating the airwaves nowadays, this is a journey you MUST take.
On
The Shakka Crown Affair,
Shakka casually brushes off expectations by defiantly going against the "generic R&B crooner" mold to give us a fresh perspective. The young singer maintains his British accent and does have the tendency to defiantly sing at the top of his lungs - often leaving me clenching my teeth until he makes that high note (which he always does). Fortunately, this adds to the unique quality of his voice and gives this mixtape an unapologetic rawness.
The intricate harmonies heard throughout this body of work cut through the rawness to make it all-encompassing. This combination contributes to a multi-layered effect that keeps the listener interested in what Shakka has to say. Some of the lyrical content may seem wacky at times but I suppose this gives the listener a deeper insight into the experimental artist that Shakka is... And with that, I leave you with
The Shakka Crown Affair
Download:
Shakka - The Thomas Crown Affair