OK So I've been going back and forth for a good few weeks about whether to feature this album on here... On the one hand, it is an amazing Hip-Hop album and everyone should have the pleasure of listening to the music BUT on the other hand, there's so much history and so much going on behind the scenes with this album that listening to it gives me quite the bitter-sweet feeling every time and I'm sure it's the same for anyone else who knows the 'Sorry I'm Late' back story! Alas we're here strictly for the music and music this good, especially Hip-Hop music this good should ALWAYS be shared so without further ado, iPlug to you Culture VI Records + John Regan's 'Sorry I'm Late'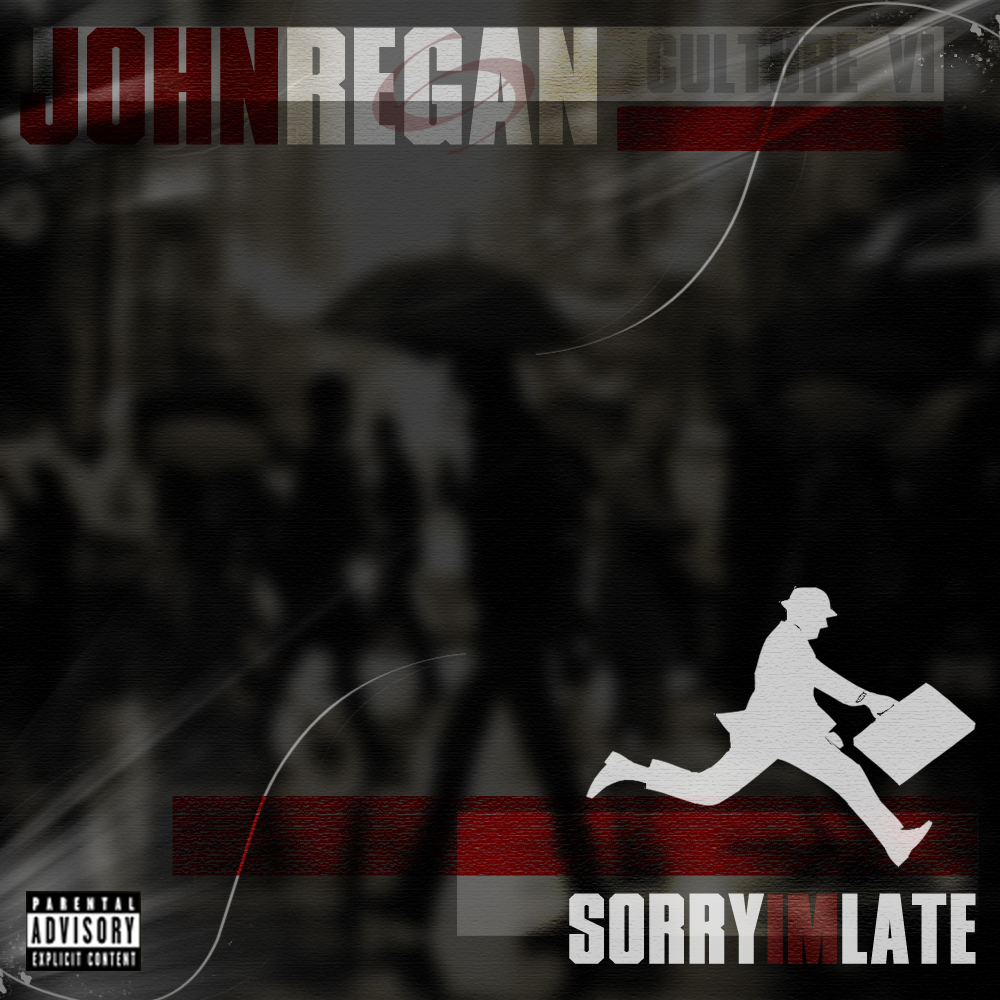 'Sorry I'm Late' is the début solo album from 24-year old Baltimore native and Hip-Hop artist,
John Regan
released on Independent label
Culture VI
which boasts features & production from some of US Hip-Hop's established names such as Joell Ortiz, 88-Keys, Skyzoo, Sha Stimuli, Nottz, Ill Bill. Naledge (Kids In The Hall), Needlz as well as the amazing
Marsha Ambrosius
! Already for an Indie project, the calibre and quality of features and guest-producers Culture VI's Wil Loesel managed to bring together on this album without the budget of a major label is a HUGE feat in itself... The question is does it work??? I guess only the music can answer that...
We proceed with one of my personal favourites on the 14-track 'Sorry I'm Late'. This one is called 'Stars' with production from
Needlz
& YZ and featuring British Singer
Nicholas Howard
who does PERFECTLY on vocals. On here, John Regan is at his introspective best and it makes for very compelling listening. John's not a punch-line rapper, neither is he heavy on the smart/witty lines or double entendres BUT what you get is a brutal honesty with real heartfelt and relatable lyrics that's really just refreshing and liberating to listen to & what can I say about the production on this song that you cannot hear for yourself... The musical backdrop on this is beautiful, thanks to Needlz & YZ!!!
You already know that I'm a sucker for a good Soulful Hip-Hop song and the song you just heard, '
One Day In Heaven
' featuring
Skyzoo
and Jaiden on vocals (another amazing vocal feature) is exactly that! One of my stand-out tracks of the album, another musical masterpiece of a backdrop from YZ with John Regan and Skyzoo especially (on that second vese) riding this one rather beautifully. Don't you just love it when a Hip-Hop song actually tells a story and is written with purpose and craft rather than just plodding along trivially? Or am I just bugging? I keep replaying this song and can't get over the realness of Skyzoo's verse. A really good song from whatever front you look at it!
Now for a slight change of pace unto the second single off of 'Sorry I'm late', a song titled '
Yesterday
' featuring the colossal
Joell Ortiz
in adept & reflective story-telling mode about losing his 'baby' with the hauntingly gripping vocals of emerging R&B artist Meylin on the hook to complete this YZ-produced rock-influenced number heavy on head thumping drum patterns and guitar riffs as similar to tracks like '
Breath of Fresh Air
' & '
She Loves Me... Not
' which the album start off with...
The first single off of 'Sorry I'm Late', 'Paint the World' is as HIP-HOP as HIP-HOP gets plus it's a song about John's early years as a Graffiti artist! From the DJ scratches to the full-on rap hook to the head-bopping production courtesy YZ and let's NOT even begin to talk about the cameo appearance from veteran emcee
Pack FM
on the hook just in case you didn't notice. I ain't even gonna lie, I was half hoping FM would lend a verse to this BUT alas, this song still comes HARD!
Can I just take a moment though to say this... One of the overriding themes on this album is that the quality of production and music is just way UP there! For that, we especially have to thank YZ who is on production credits for 10 out of the 14 tracks on the album as well as serving as Co-Executive Producer on 'Sorry I'm Late'... I know you are waiting to hear the Marsha Ambrosius feature and even though I've already featured one song too many than I should, I'll oblige you and share it with you before I get outta your hair.
OK so what's the verdict? Is 'Sorry I'm Late' one of the best Hip-Hop albums of 2010? I would be inclined to say Yes! 'Sorry I'm Late' is certainly one of the best Indie Hip-Hop albums of 2010 without question. Moxie Black's '
How Did This Happen?
' & Pack FM's '
I F*cking Hate Rappers
' rank up there too for Indie projects this year (lemme know any more I should make mention of) but alas I digress, the point I'm trying to make is that 'Sorry I'm Late' is a very good album with AMAZING production, I cannot go on enough about how good the music is on this album, from a really good & honest rapper (Do they even make 'honest' rappers any more?). Granted John Regan hardly departs from talking or rapping about the hardships of balancing or separating his music from his life and doing what he loves versus taking care of his family and ordinarily, there might be only so much of that you can listen to in just under an hour BUT John expresses himself very excellently and with such honesty and realness that you cannot but help lend him your ears for all of those 60 odd minutes. I highly recommend it.
Stream/Listen:
John Regan - Sorry I'm Late